Posted by akonswils
0 comments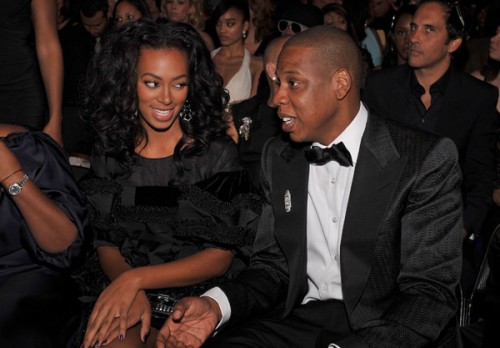 While the rumor mill has been steady turning about the fiasco that hit the web this week in the Knowles-Carter camp, it seems as if the stars are trying to do a bit of damage control.
Catch the story after the jump!
Of course as we all know, there's really no telling what caused the altercation between Solange and rapper Jay Z, but what we do know is we'll never hear any of the camps speak on it. From accusations of cheating to Hov not wanting to head home after the after party, everyone who's anyone has put their two cents in.
While Mr. Carter and Beyoncé sat courtside at the game last night, it was said that Solange was busy deleting majority of the pictures of her sister on her Instagram account. However, it seems as if Solange and Jay Z have put their differences to the side as today has revealed.
According to TMZ, the two boxers in-laws were spotted at one of New York's high-end jewelry stores, Mr. Flawless…together. Going on to say that the two wandered around the store – with little to no words exchanged – for about 20 minutes looking for women's jewelry.
Gazing over some new ice with Mr. Flawless himself, the pair showed no sign of tension or bitterness toward one another. Although they left the store without purchasing anything, sources say they were quiet and peaceful.
A breath of fresh air for fans of the famed family – we're sure. One does have to wonder though, is this the real thing or is it just a sort of damage control pushed by each of the camps?
Either way, good luck to the Knowles-Carter family as they sort out this messy situation!